Anniversaries
I am often engaged as a solo pianist entertainer for a wedding anniversary event especially for a ruby wedding, golden wedding or diamond wedding anniversary. You can stipulate if you would prefer a predominantly based music selection from 60's, 70's or standards from the forties and fifties or sing-alongs from the great wars, etc. - whichever may better suit the age groups involved.
Other typical choices of music entertainment for anniversaries are popular songs by Nat King Cole, Dean Martin, Frank Sinatra and the like, Semi-Classical, Light Music, Theatre and Musicals songs, etc. There are a few subtle samples here. Pianists should be totally versatile in the variety of music they can play and I can meet all styles for all events.
I am surely one of the most highly experienced professional pianists in Essex, East Anglia and London areas, let alone the UK, from my experience in West End musicals and Luxury Cruise Liners (see my homepage for more details of my previous worldwide experience). Don't worry if you don't have a piano - I will bring a professional quality digital piano that will sound just like you want it to.

Call Me: 01223 893322
HEAR ME PLAY:

Birthday pianist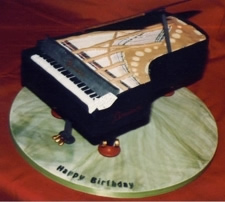 Most popular piano requests for 40th, 50th, 60th and 65th birthday parties, but for the more significant 70th, 80th and 90th birthday many of the guests find a pianist more pleasing to accompany the birthday meal and celebrations than more modern alternatives. If you have a significant birthday party to arrange and would like the mellow sounds of a piano playing all the famous tunes from your era of music, please get in touch.
Check availability for your function date:
or Call Me: 01223 893322
AREAS: Essex, East Anglia (including Cambs, Norfolk and Suffolk),
Cambridge, Herts & Beds, London, Kent, Surrey
and surrounding areas of the UK.
You may be interested to know the names given to some anniversaries:
Ruby wedding anniversary - 40th
Golden wedding anniversary - 50th
Diamond wedding anniversary - 60th